for ALL your POWER PRESS

 

requirements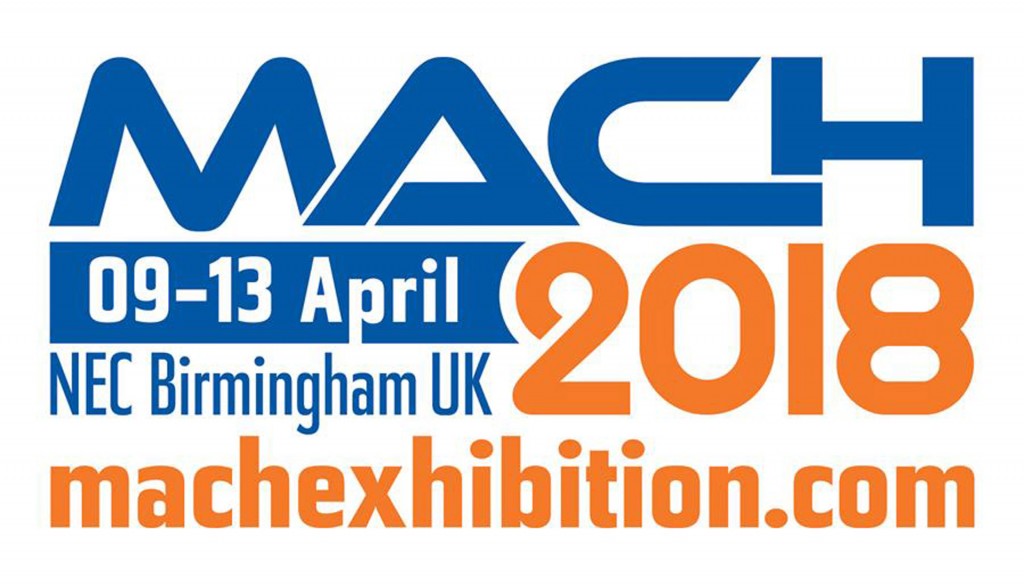 TMA will be exhibiting in
The Metalforming Machinery Makers Association (MMMA) village
STAND No. H20-420 – click the blue button to register for FREE!
We will be exhibiting:-
A new WORLD GROUP mechanical press with light guards.
New TMA servo feeds.
Helm Load Monitoring.
GPA Automation press safety valves.
Service, Spares & Repairs.


Click here for a Brochure or more information
---
MACH 2018 MMMA Metalworking Village
Hall 20 Stand H20 – 327
The MMMA Metalworking Village within MACH 2018, has 25 members exhibiting, covering 570 square metres.

End users visiting the Metalforming Village will be taken on a journey covering leading edge Technologies. Highlighting the innovations within the industry. The majority of members having connections with the press industry will be demonstrating their  machines, most in working conditions. These will include machines from:-Presscare, Bruderer UK, P J Hare, Worcester Presses, Decade Monitoring, Cotswold Machinery, Group Rhodes, Ortlinghaus UK, AIDA,TMA Engineering, Nidec Minster, Zebra Worldwide Machinery and Anton Saws.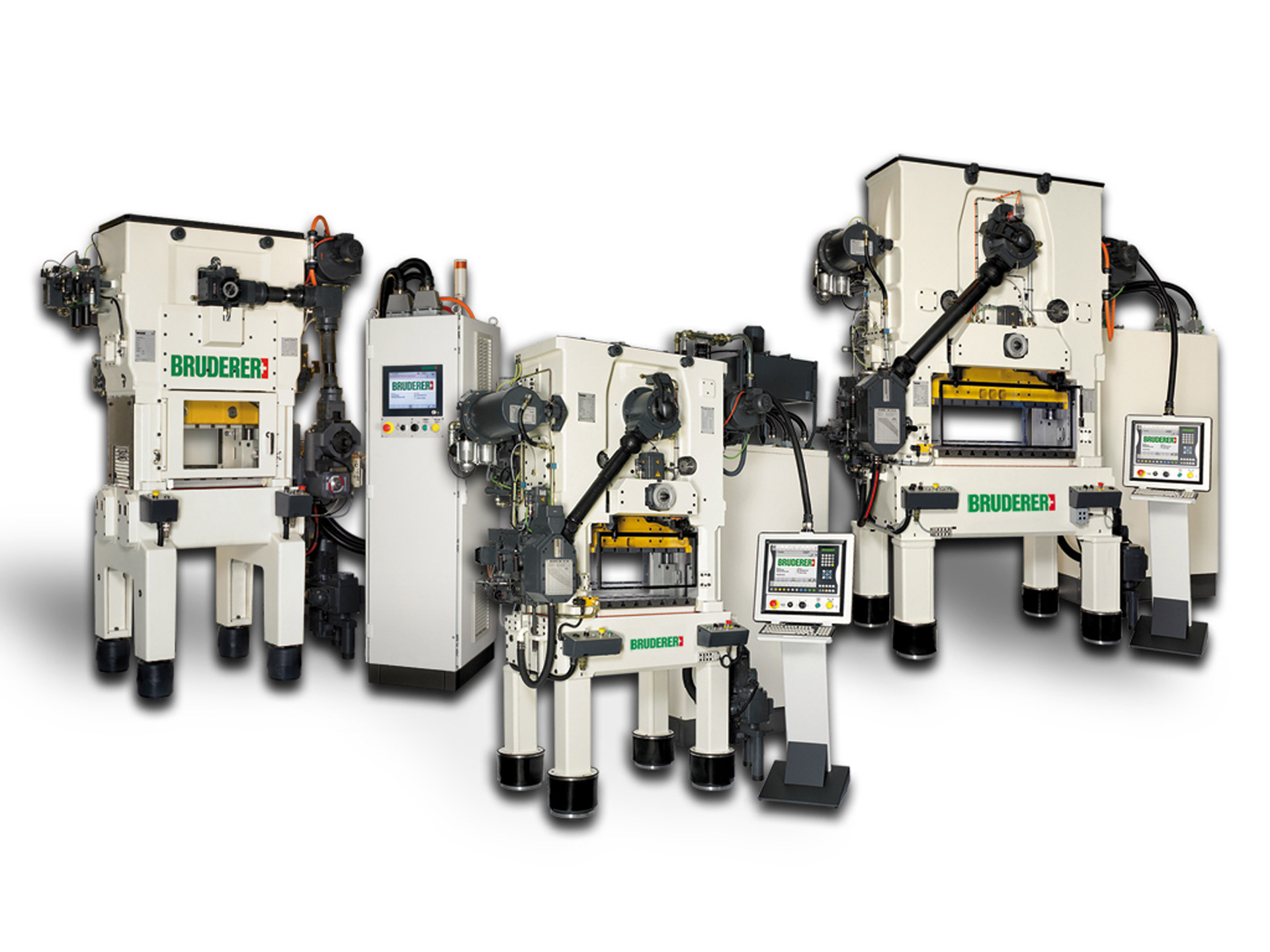 In addition to Machines,  members will be exhibiting safety control panels, safety equipment, light guards, load monitors, servo feeds, lifting equipment, Quick Die Change, Quick Mould Change, magnetic clamping. Testing equipment and much more.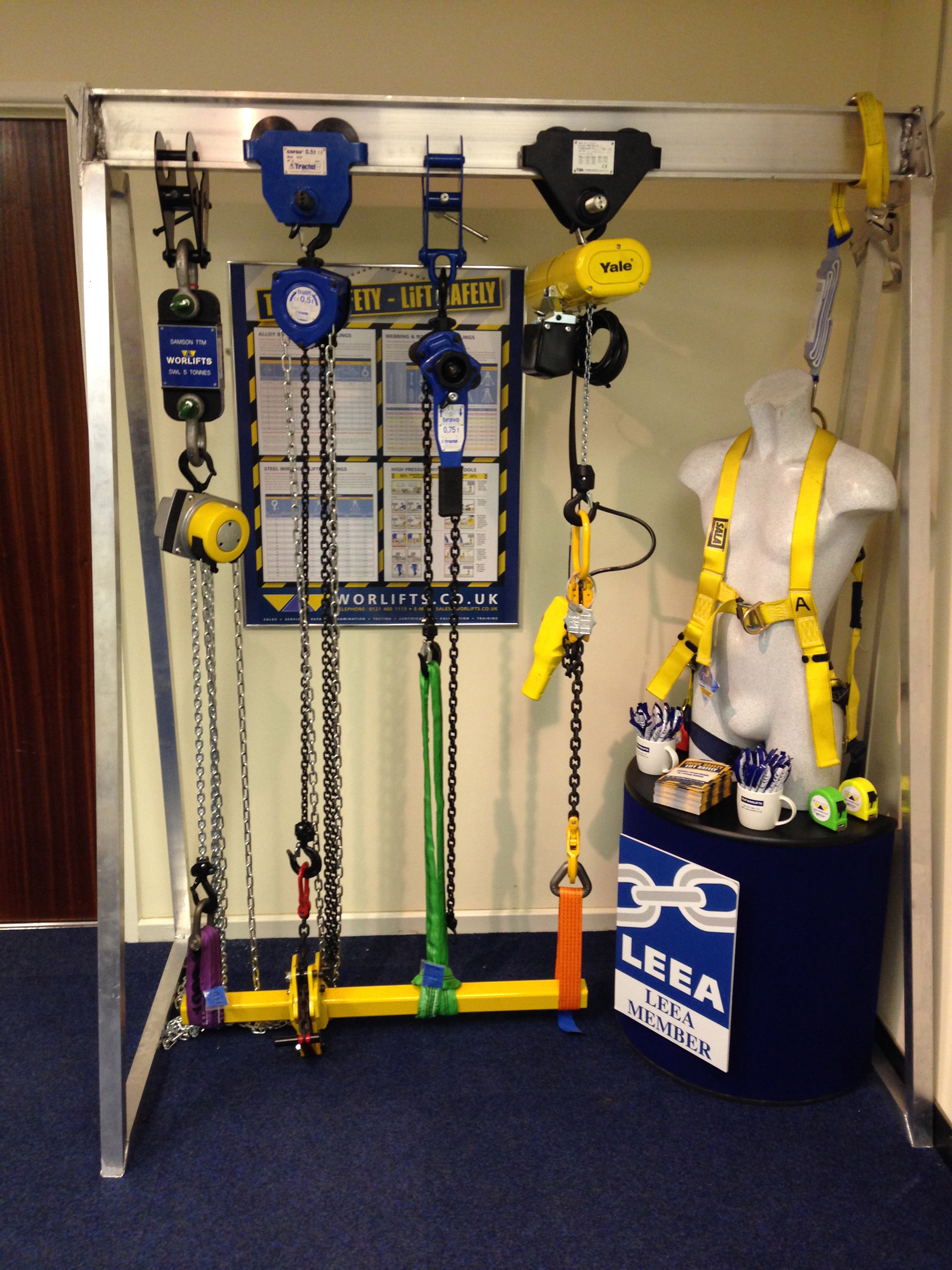 Visitors will also have the opportunity to discuss with stand personnel, design and build, bespoke machines and applications. We look forward to seeing you in the village, pop in for a coffee and chat to see how we can help you improve competitiveness in the UK.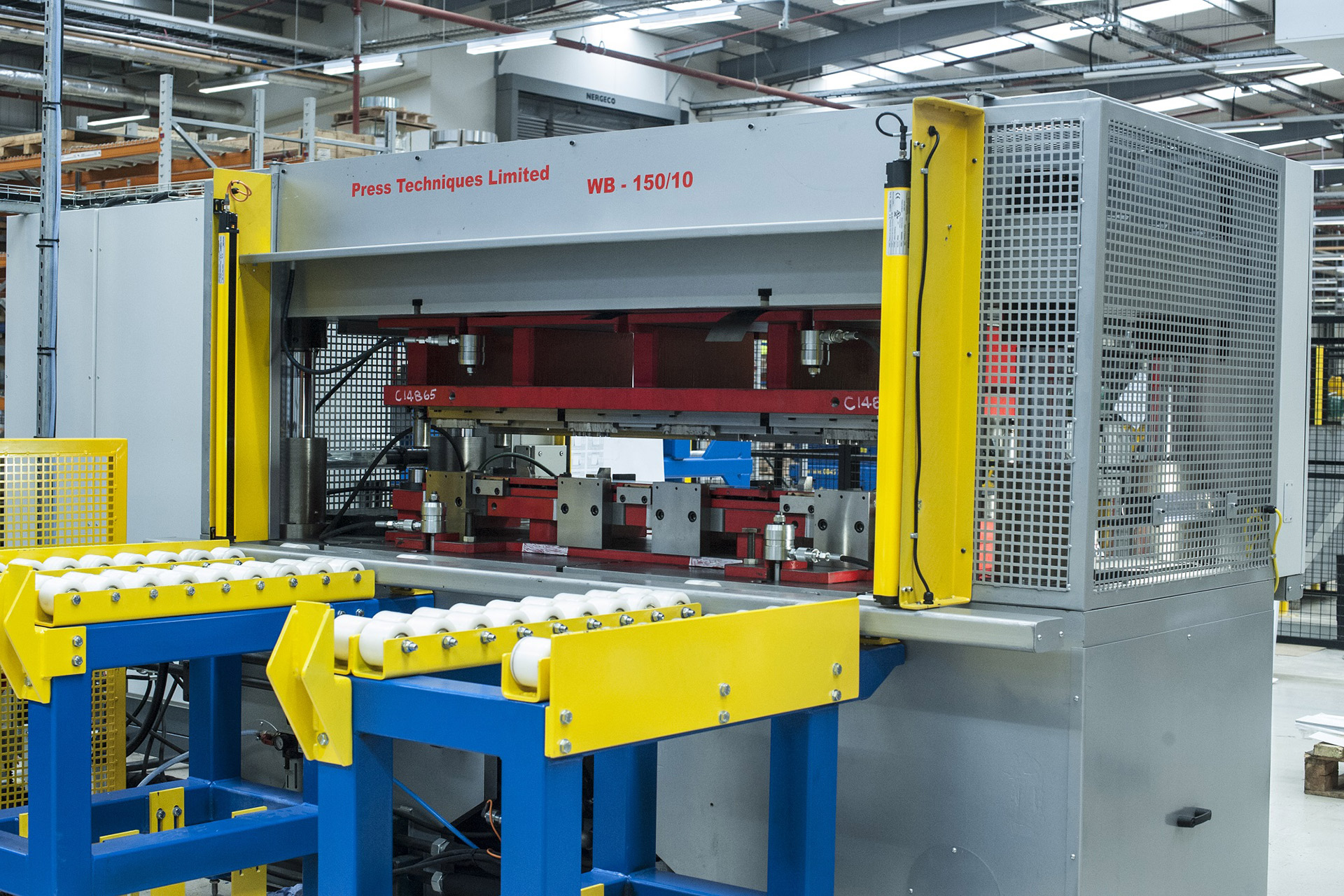 With so many working exhibits on display, the MMMA Metalworking Village will be a hive of activity. Make sure your part of it.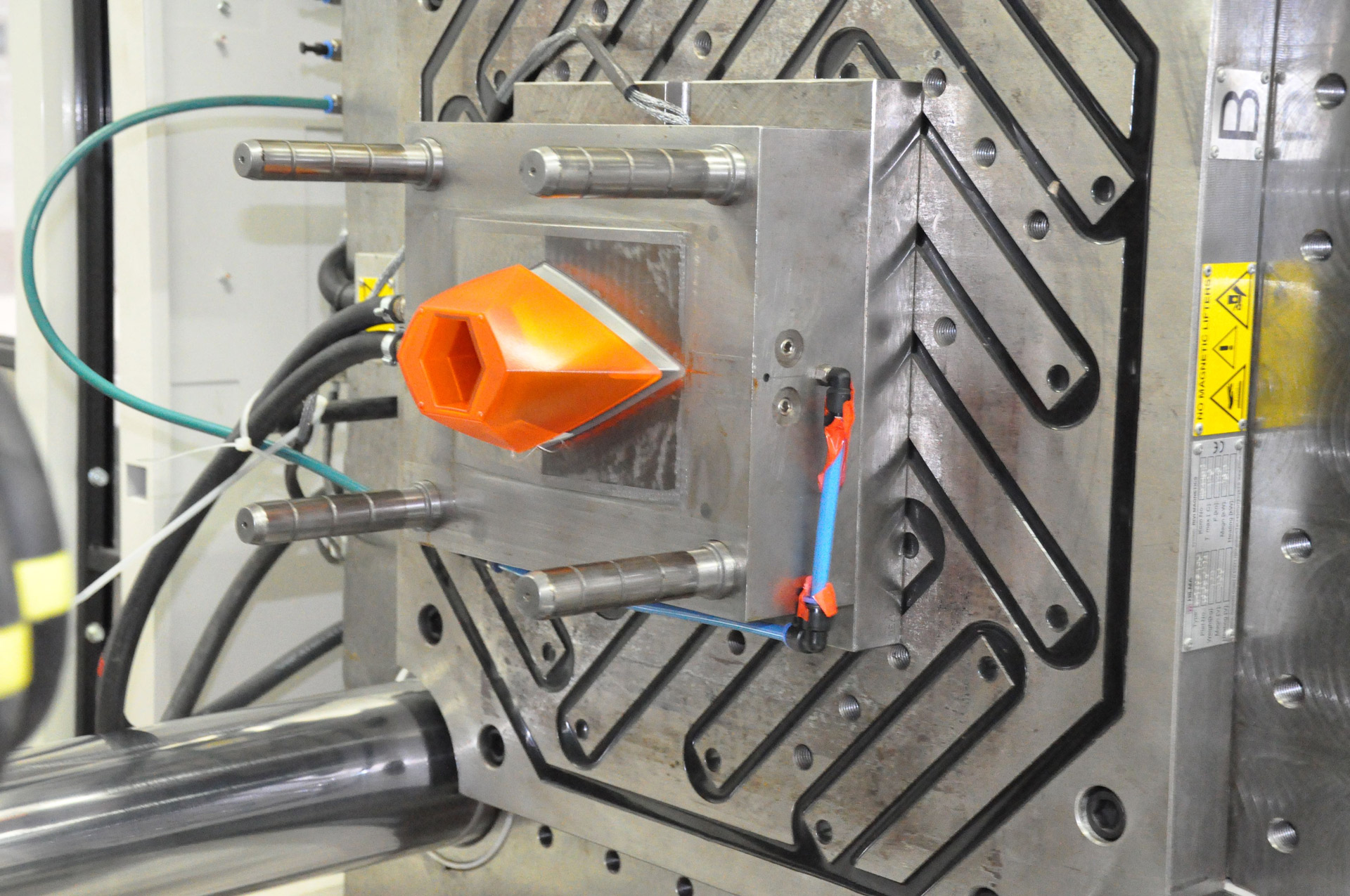 More information available at www.mmma.org.uk
---
Tool life increase by more than six times
In the automotive industry emissions constraints and improved passenger safety require ever lighter yet more stable vehicles. As a result more Advanced High Strength Steel (AHSS) is being processed and studies show that the amount of AHSS per car is expected to grow from 68 kg in 2009 to over 250kg in 2020.
The increased demand for ever more complex geometry beams and pillars, made from AHSS and delivered to the end user in ever shorter lead-times, means tools are required to spend more time in the press and process higher volumes of steel. Improved quality of tool steels can assist but still falls short of this ever moving goal.
Oerlikon Balzers BALINIT FORMERA PVD coating applied to a forming steel has proven to extend the press life of a tool by over 600%.
A pressing facility in the UK processing numerous for the automotive industry trialed Oerlikon's new coating on steels used in the production of laser welded 960Mpa Ultra High Strength Steel, they found tool life had improved from 120,000 strokes before tool damage to over 850,000 strokes and still in use. Tool maintenance was also reduced to 20mins every 70,000 strokes as opposed to 120mins every 20,000 strokes with a competitors coating.
The use of BALINIT FORMERA has given the end user a more than 200% improvement in maintenance free production and a significant increase in overall productivity.
The steels in the trial were prepared and coated at Oerlikon Balzers UK facility in Milton Keynes.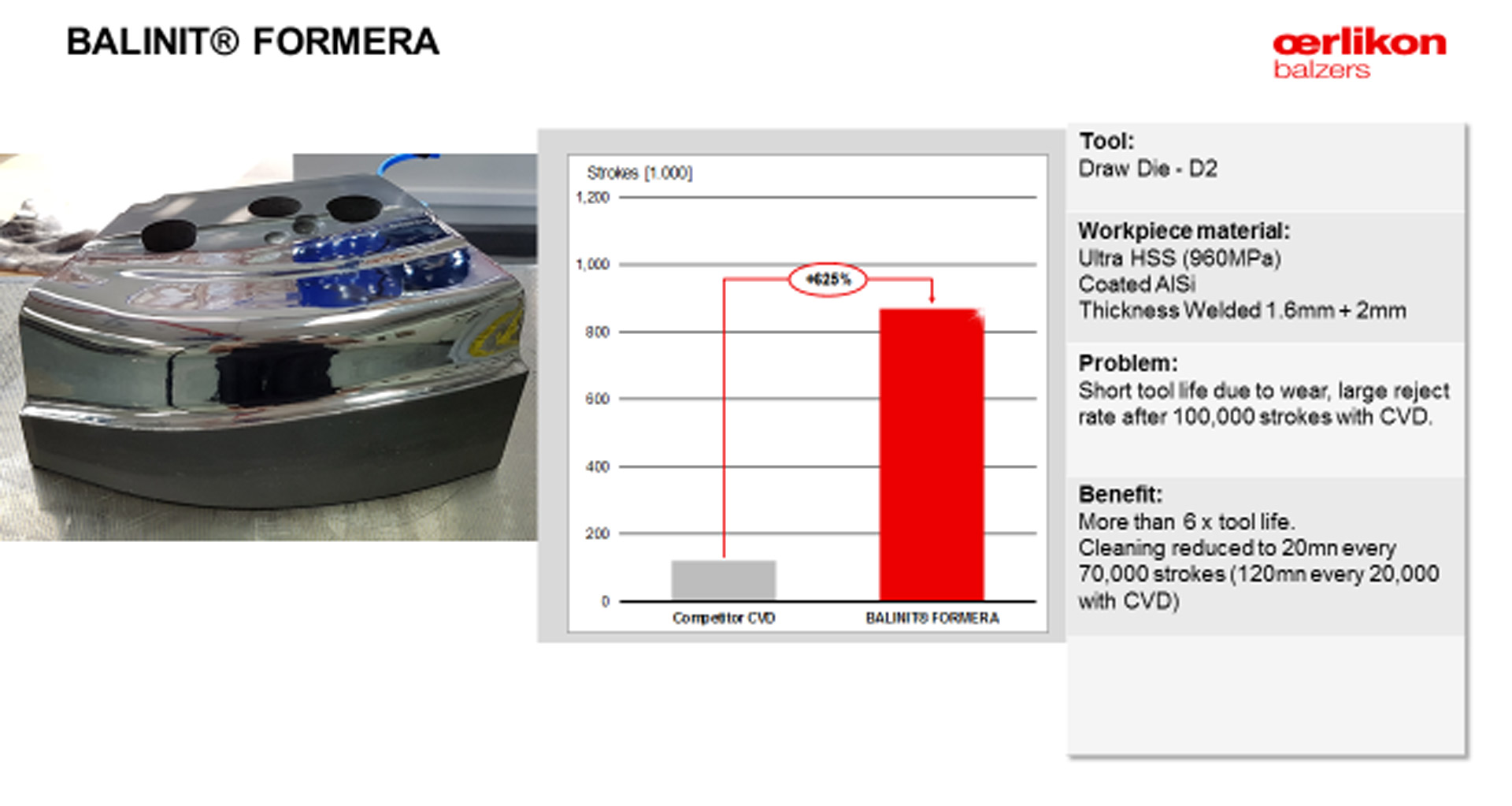 For further information please call 01908 377277, email info.balzers.uk@oerlikon.com or visit stand H20-329 at Mach 2018 (NEC Birmingham, April 9th – 13th).
---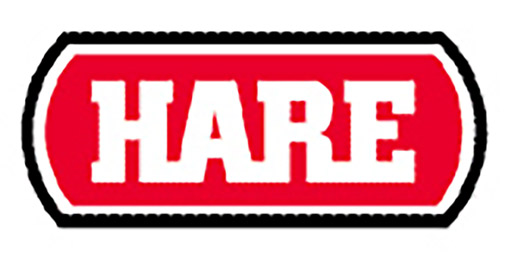 PJ Hare Exhibited At This Year's MACH
PJ Hare are pleased and excited to announce that we will again be exhibiting at this year's MACH event to be held at the NEC in April 13th—-16th
The event, one of the highlights in our calendar, is an excellent platform to showcase our expertise and products. PJ Hare will be located in the Metal forming Machinery Makers Association village on stand no: H20 – 352.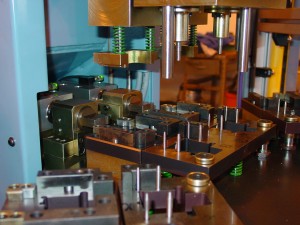 PJ Hare has been supplying high quality hydraulic presses and bespoke hydraulic press solutions in the UK market for over 70 years and have forged binding relationships with key clients in many market sectors such as Industrial, Automotive,  Aerospace, Food, Composites and Medical to name but a few.
Keeping up with technological advancements, constantly seeking better ways of doing things, challenging the norm and investing in people and new concepts has maintained PJ Hare as a market leading force in bespoke hydraulic press solutions in all of these sectors.
We look forward to meeting up with new and existing customers to discuss how PJ Hare can assist with their future plans.
---

BRUDERER UK – Celebrating 50th Anniversary at MACH 2018.
Our Stand at MACH: Stand number is H20-330
Formed in 1968 BRUDERER UK has established a reputation of unrivalled excellence in the sphere of high speed precision stamping. From their Luton location BRUDERER UK supplies its many customers with authentic "BRUDERER made" spare parts plus service support from a UK based team of factory trained service personnel.
Over the years we at BRUDERER UK have developed a policy of providing not only high speed presses but a comprehensive range of other products and service to its customers, including tooling, coil handling and feeding equipment to complete "turnkey" packages.
Today, our slogan is "ONE NAME, A MULTITUDE OF POSSIBILITIES"; choose BRUDERER UK as your one stop show for all press shop machinery and ancillary equipment.
Furthermore, we are extremely proud to be part of the BRUDERER family and as such also look forward to celebrating their 75th Anniversary, and looking forward with eager anticipation towards the future.
---
Schuler Presses UK Ltd at MACH 2018
As a sales & service company, Schuler Presses UK offer comprehensive service for mechanical and hydraulic presses as well as for forming equipment by any manufacturer. Customers include the automobile industry, its suppliers, the electric motor sector, and the household appliance industry. Capabilities include maintenance, electrical and mechanical rebuilding, modernization, performance enhancement, and replacement parts.
Schuler is the technology and world market leader in forming technology. The company offers presses, automation solutions, tools, process expertise and service for the entire metalworking industry and lightweight automobile construction. Customers include automobile manufacturers and automotive suppliers as well as companies from the forging, household appliance, packaging, energy and electronics industries. Schuler is a leader in coin minting presses and implements system solutions for the aerospace, rail transport and large-dimension pipe manufacturing sectors. In the 2016 fiscal year, Schuler generated sales of 1,174.2 million Euros. After acquiring toolmaker AWEBA and the majority stake of Chinese press manufacturer Yadon, Schuler is present in 40 countries with around 6,600 employees. Schuler is majority-owned by the Austrian ANDRITZ Group.
---
Press Techniques to showcase new machinery at Mach 2018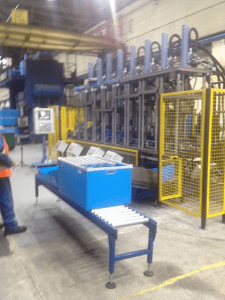 Continuing to resist the temptation of importing machinery from outside the UK (EU) we are pleased to exhibit the ability to build high standard bespoke machine designed and manufactured in the United Kingdom.
We have just installed a automated 8 station transfer line and equipment for the production of oil filter bodies for the truck industry, this line of equipment as allowed the end user to shut down two older lines of equipment and increase the production by 250%.
We have been instructed to build a 225 on hydraulic press and this to be part of a automated line of heavy duty elevating equipment manufacture , this will be installed and working by the end of year therefore still in the early stage of manufacture at the moment.
Our most exciting project hopefully to be exhibited at the exhibition will be our proposed Advanced forming machine which will be capable of 300 tons pressure and infinitely controlled to within 0.1mm of ram position to allow a angular ram off-set of +/- 10.0mm which will be programmable to enable minimum trial and error of production of a component of high tolerance.
Visit us on our stand and view in-depth product videos of all the above items showing the diverse range of equipment supplied by Press Techniques Limited.
---
Midland Power Press Services Limited at MACH 2018 
STAND No: H20-320 in the MMMA Metalworking Village
As a leading supplier of service and support to the Power Press, Metalworking and allied industries, Midland Power Press Services Limited will be showcasing the wide range of services the team of skilled and experienced engineers offer.
Keeping customer's machinery in production with On-site service to attend breakdowns and carry out emergency repairs; providing Power Press Inspections for compliance with HSE regulations, to undertaking complete Machine Refurbishment and Upgrades including re-machining components, and replacing worn out or obsolete lubrication, pneumatic or hydraulic systems are all part of our everyday service.
A key service is supplying Spare Parts for all makes of presses and machinery. With our CAD Design Systems and 'Reverse Engineering' capabilities we can supply components and assemblies without access to original design documentation.
These services are supported by our large 'in-house' Machining capability with a range of CNC and conventional Lathes, Vertical and Horizontal Boring machines to manufacture individual components up to 4,000kg weight. We also offer Sub-contract Manufacturing from a single component or batch manufacturing.
To meet modern Power Press safety standards we undertake Clutch & Brake Conversions including installation design, press modifications and fitting of Combined Clutch & Brake Units on all makes of press. We also provide an Electrical & Control Systems breakdown service, including safety checks and repairs; plus thermal imaging to detect and prevent "creeping breakdowns".  Where required we undertake complete Control System Upgrades – re-wiring, replacement control panels, PLC controls for single machine or integrated production cell.
Our heavy lifting team undertake Machine Relocation offering a complete 'turnkey' service for relocating existing presses and equipment or the installation of new machinery.
At MACH 2018 we shall also be high-lighting our exclusive UK Agency for OMERA Sheet-Metal Working Machinery including Trimming-Beading Machines, Mechanical Presses, Hydraulic Presses and Automated Lines.
Midland Power Press Services Limited has been serving industry for 35 years, responding quickly to customer needs and offering cost effective engineering solutions. Our client base includes blue chip customers in the automotive, aerospace, white goods, forging and food & beverage sectors.
Worlifts
Supply, Hire, Service, Repair & ON-Site Testing Specialists. Worlifts, have been reducing businesses costs and keeping them and their staff safe for over 40 years.
Our equipment and industry expertise spanning all sectors of industry gives you piece of mind that we can be trusted to be your 'Single Source Solution' for all your mechanical lifting equipment, bolting tools, hydraulic lifting and jacking equipment, torque wrenches and material handling equipment.
---
Presscare
PressCare will be exhibiting on stand H20-7 in conjunction with SEYI Presses Europe GmbH
---