MMMA Metalworking Village – MACH 2020 

The MMMA 'Metalworking Village' at MACH 2020 will be the largest area taken by the MMMA and has already exceeded expectations of members attending, with 23 confirmed and more to be confirmed. As the original space for the 'Metalworking Village' has been filled, as and when more space is requested by members, additional space will to be requested.
This is a fantastic result for the Association and makes the 'Metalworking Village' space taken to around 650 square metres. This is the fourth largest in the entire exhibition halls.
At present, Members exhibiting are:
Esprit Automation, Cotswold Machinery, Worcester Presses, Bruderer, Schuler, Presscare, TMA, Roemheld UK, Industrial Clutch, Kaller Springs, Press Techniques, Helm, AntonSaws, QualiMach, Wilson Tool, Pressform Machinery, Ortlinghaus, Decade, Group Rhodes, Oerlikon Balsers, Voith Turbo Ltd, Formit.
The excitement of being part of the Metalworking Village begins now as companies start to plan the stands and the technologies, products and services, they will be exhibiting.
Overall 23 members will be there, hoping to be even busier than they were in 2018, which was a great exhibition for members, both from Enquires and orders placed during and post the exhibition.
Whilst planning your visit to MACH 2020. Make sure you take time out to include a visit to the MMMA –  Metalworking Village, it will be exciting to see the technologies there on display.
MACH 2020 – Floor Plan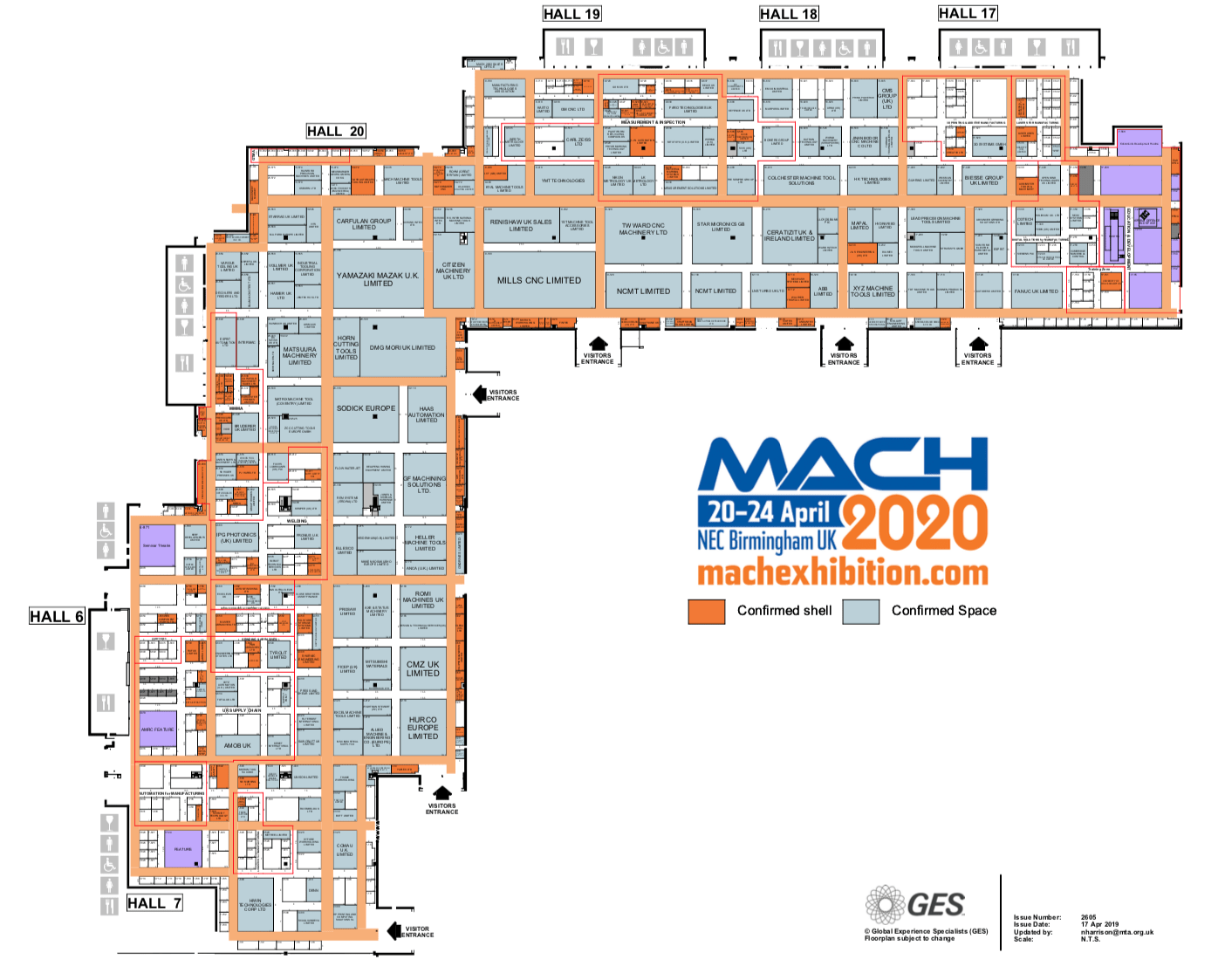 REASONS TO EXHIBIT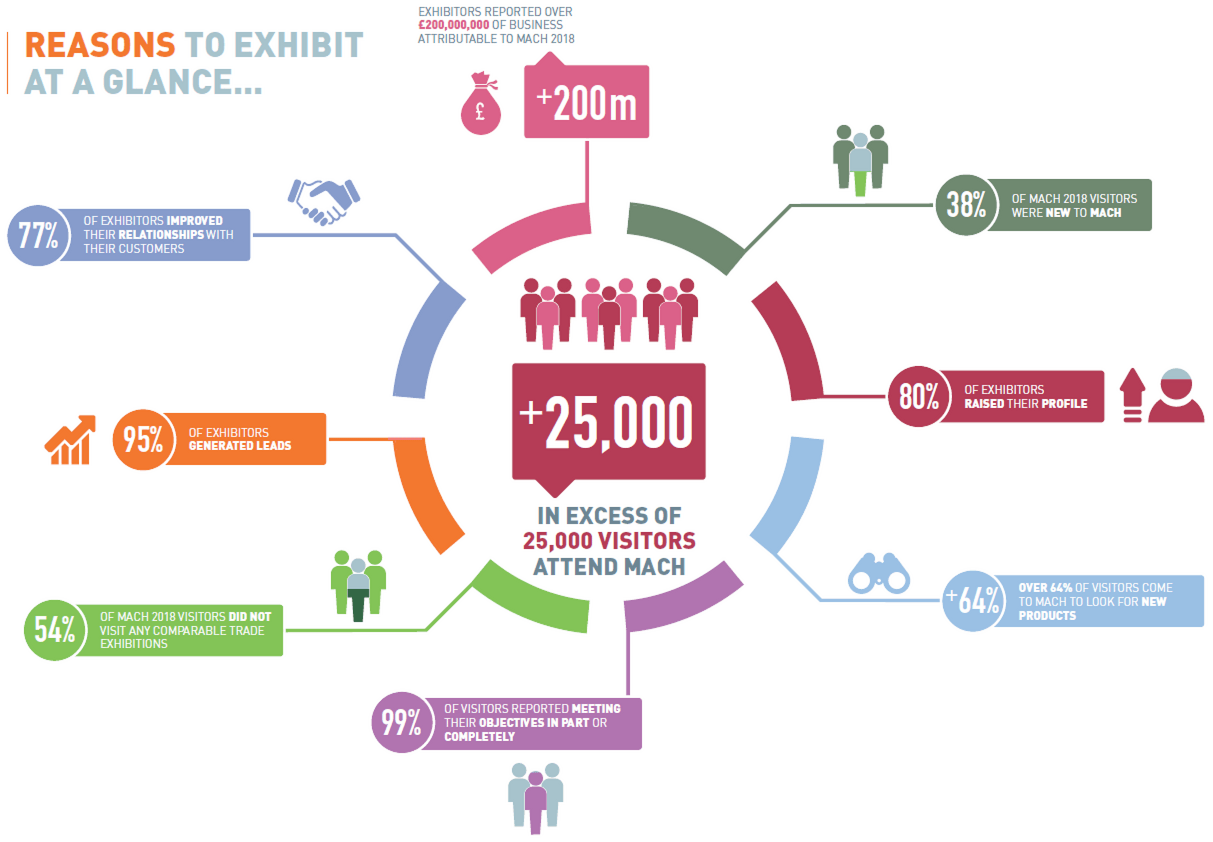 Contact Bill Neal on billneal@mmma.org.uk to book your space today!

Not sure what to expect?
MACH 2018 Review – MMMA Metalworking Village
'What a busy Exhibition!'
That was verdict from the MMMA members exhibiting within the MMMA Metalworking Village at MACH 2018.
The Post MACH 2018 exhibition feedback was an overall a great triumph for the organisors 'MTA' and especially pleasing, a fantastic result for the MMMA members attending the exhibition, some for the first time.
With the, New location, New Halls, the overall feeling was of Bright, eye catching, quality built stands. Where exhibitors had made some substantial investments in bringing their product and or service to the notice of visitors. With excellent footfall, some 5% up on MACH 2016,  the quality of visitor to the exhibition was exceptional, across all industries involved in UK Manufacturing.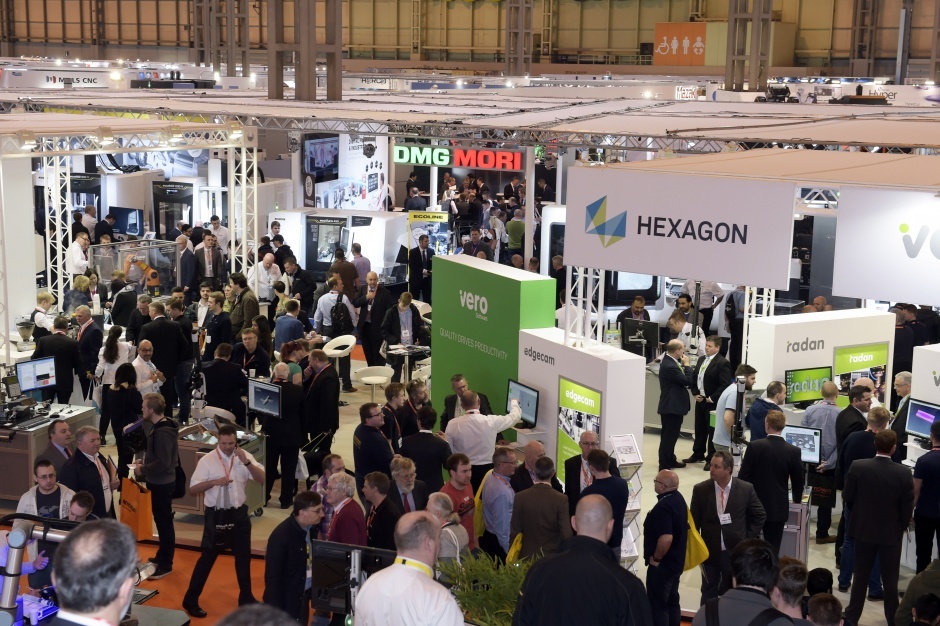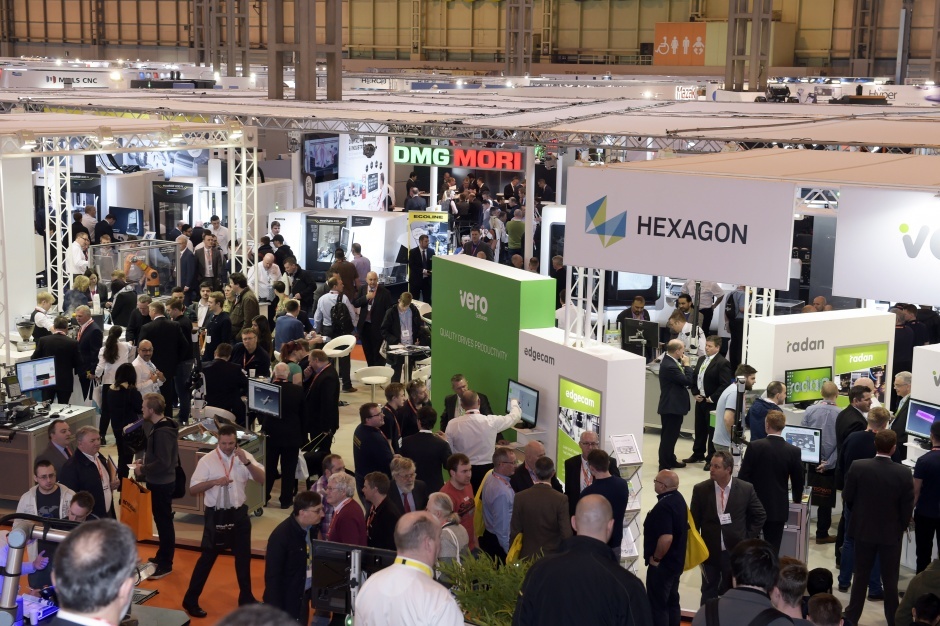 Let the MMMA members do the talking! 
MMMA Metalworking Village Quotes from Members
Decade Monitoring systems
"MACH 18 was a great platform to release our new 170 load monitor. It helped us secure a large order with Brittan's largest car manufacture."
Paul Tandy, Operations Director
Oerlikon Balzers
"MACH 2018 was seen as a success by all who manned the Oerlikon Balzers stand. We gained over 50 new contacts from right across the manufacturing industry spectrum (Metal Forming, Cutting Tools, Plastic Forming and Components).
Our stand was visited by many of our existing customers as well as the new previously unknown potentials. We are currently following up the leads from the exhibition and hope to convert them into significant orders over the next 12 months.
Based upon the recorded contacts we had it's fair to say Monday and Friday were quieter days for visitor numbers, with the middle three days giving us over 85% of our contacts."
Alan Alders International Sales & Marketing Engineer

Worlifts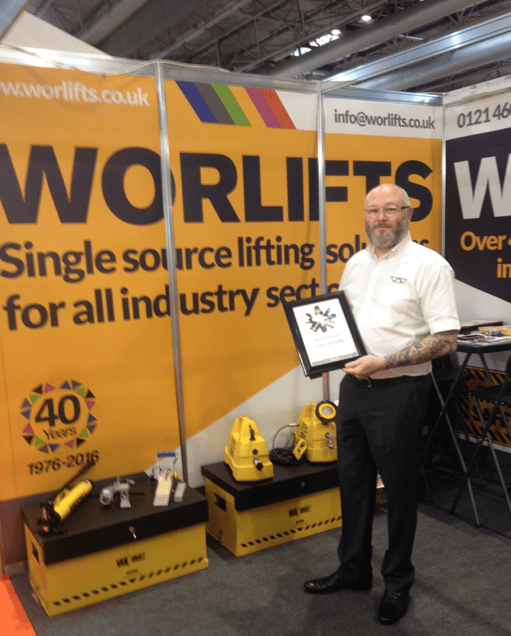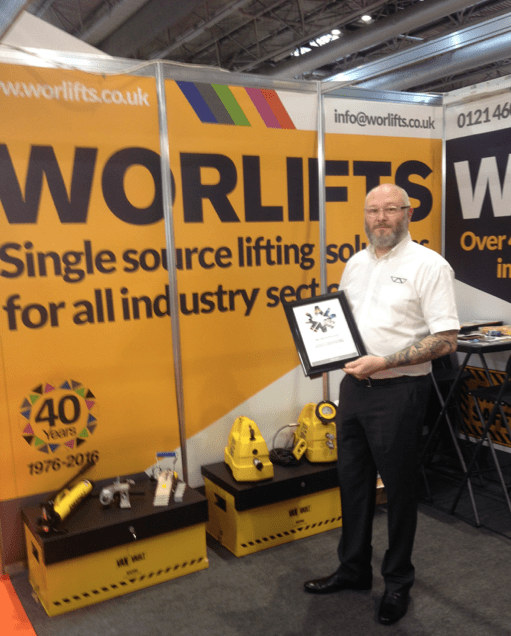 "Worlifts were very pleased with our week at MACH 2018 exhibiting in the MMMA metalworking village. We have followed up over 100+ leads from the show, opening one new initial account to which we have already supplied a couple of small orders. Wednesday and Thursday were our busiest days, but even with the show finishing at 4pm on Friday, at 3.50pm we still had a number of interested customers on our stand. Overall, a very worthwhile exhibition for us and we are looking forward to the next MACH exhibition."
Paul Smith Sales Director
Group Rhodes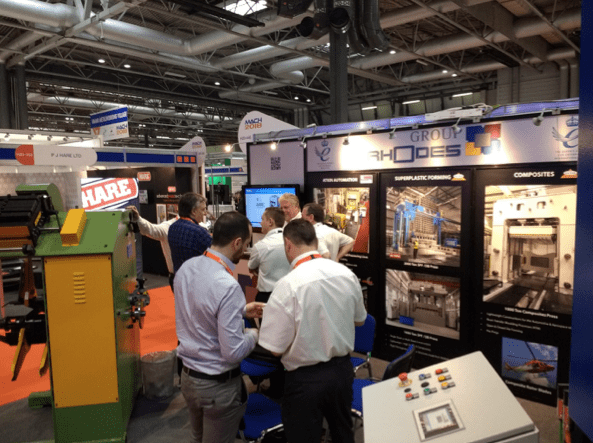 "Group Rhodes CEO Mark Ridgway said: "We had a very busy and successful show at MACH. It was also a great opportunity to discuss with customers about our new agreement with metalworking partner Dr Hochstrate Maschinenbau.  We expect this partnership will open up new market sectors for us to explore new avenues of business."
During the exhibition, our CEO Mark Ridgway was presented with a certificate of Membership of the MMMA (Metalforming Machinery Makers' Association) by the Chairman Adrian Haller of Bruderer. Group Rhodes is now the longest serving member of the MMMA having joined almost 70 years ago in April 1949!"
Mark Ridgeway CEO Group Rhodes
AP&T
From our point of view the exhibition was great to publicise AP&T's latest technologies, we gained new contacts in Aerospace and Automotive sectors.  We also received two RFQ's for new projects.  As always it is a long week with some slow days but that is to be expected.  All in all a worth-while event.
Christian Wright, Sales and Service Manager UK
Nidec Press & Automation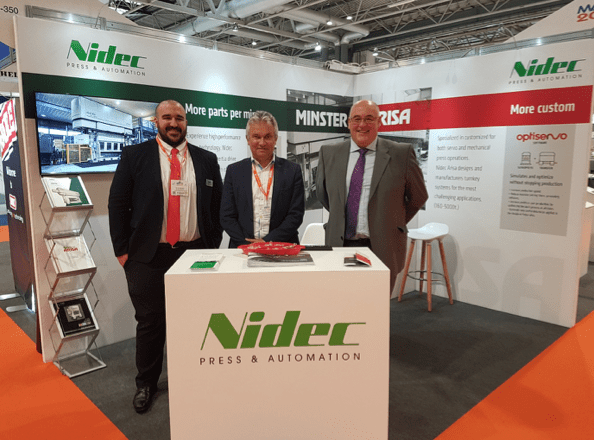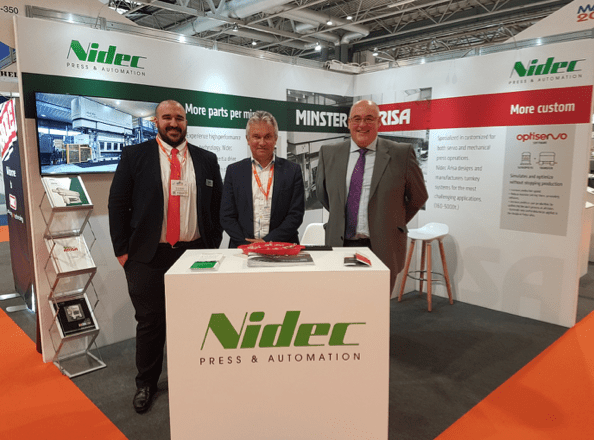 "Nidec Press & Automation welcomed many existing customers along with several potentially new customers during the successful MACH 2018 Exhibition. Numerous enquiries were received during the exhibition, ranging from single presses and automation machinery to fully integrated systems.
Through its group companies of Minster, Arisa, Kyori and Vamco, Nidec Press & Automation offers a complete range of products, including presses from 15 to 5000 tons in mechanical and servo drive options. The group also offers a wide variety of coil handling and production automation solutions backed up by a globally-responsive customer service organization.
Nidec Press & Automation is looking forward to working with all of our recent MACH 2018 visitors and exhibiting at MACH 2020 to continue to deliver engineered solutions to the industry."
Chris Sharrett, Director
Roemheld UK Ltd
"Overall, Mach 2018 was a success for Roemheld Uk with enquiries & visitors on both stands up on 2016.
The MMMA Village was busy with several new customers viewing our products for the first time & generated some good interest & potential."
Terry O'Neill  MD