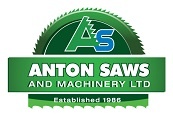 Anton Saws and Machinery Ltd
Hougoumont Farm, Collinbourne Ducis, Wiltshire, SN8 3ET
Tel: +44 (0) 1264 850490 / 07799887699
Email: mark@antonsaws.co.uk
Website: http://www.antonsaws.co.uk/
Contact: Mark Paraman
At Anton Saws and Machinery, we have been supplying industrial saw machines across the UK for over 30 years. Our extensive range of band ,circular and wood saws come from top quality, well established suppliers and manufacturers from all over the world. We also provide tooling ,servicing and supply of all metal forming machines.
Anton Saws and Machinery Ltd was formed in 1986 and have been offering the MACC Range of circular saws ,band saws ,metal forming machines to the UK since 1988.
Anton Saws and Machinery Ltd can supply spare parts and tooling for all metal forming machines and saws.
We also offer comprehensive Servicing, Breakdown and Repairs to any metal forming machine and industrial saw at your works or alternatively a complete refurbishment at our well equipped premises.
We pride ourselves on customer service and are proud to have supplied machines and backup to a large number of clients over many years.
Visit our Facebook
Follow us on Twitter
Join our LinkedIN